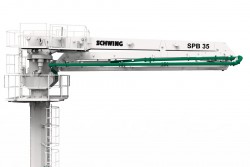 Maximize the efficiency of a placing boom by stretching a full 114-feet from the slewing axis with the new Generation II SPB 35 in a stand-alone unit. Weight has been reduced dramatically to 12,890 lbs. With simple four-pin mounting this boom can be flown quickly to multiple masts with quick-disconnect feature. Optional auto-greaser speeds maintenance.
The limits of concrete placement continuously expand with the application of a Schwing concrete pump and placing boom combination.
The possibilities are endless with the various booms sizes available, the mounting options and the number and sizes of masts that can be engineered into a project.
The net result is systematic concrete placement you can count on while increasing placement rates by as much as 50-percent over other methods.
Labor requirements are minimal one person operates the placing boom for uniform concrete placement in wall, column and deck forms.
Large floor plates may require multiple boom mounting points to achieve desired cycle times. Strategically placed masts, floor frames or other mounting options allow the boom to be quickly repositioned on the deck for future pours. Multiple pipelines to feed various boom positions can be strategically laid out within the structure.
Technical Specification
U.S.

Metric

Boom Design

ROLL and FOLD™

Horizontal Reach

114 ft

Coverage

40,830 sq. ft.

Section Lengths

1st

30.25 ft

9.2 m

2nd

27.5 ft

8.4 m

3rd

27.5 ft

8.4 m

4th

28.2 ft

8.6 m

Slewing Range – Degrees

550

Pipeline Diameter

5 in

125 mm

Control Systems

Radio – cable – manual

Boom weight

12,890 lbs

5,847 kg

Specifications are subject to change without prior notice.
Other Details
Schwing simplifies the process of mounting and erecting separate placing booms with the new modular octagonal mast design. This innovative system provides value, convenience and a world-wide solution for all Schwing separate placing boom applications.
Simply assemble the four or six-meter sections to create the mast length that best suits your project's needs. Transporting and handling the modular sections is simplified and 16 reusable bolts are all that is needed to join the sections. The strength of the modular sections allows free-standing applications to 70-feet for 32-meter booms and 50-feet for 39-meter units with out counterweight. The modular system also allows rapid changes in the field if project requirements dictate a switch in length or type of mounting. Accessories can also be easily added thanks to brackets welded on each mast section that accept convenient ladder/pipeline holders allowing fast installation with no tools required. Standard length ladders with bolt on back protectors and a galvanized expandable metal work platform are also available to give workers a stable environment when mounting or operating a placing boom.
The same octagonal mast works in free-standing, self climbing and non-climbing slab-supported applications. The floor frame used to position the mast in slabs is now a four-part assembly that is easier to handle and reposition. The self-climbing option connects to pre-welded tabs on each mast section for attachment of the jacking cylinders. This octagonal system also adapts well to applications with climbing form work. Ask your Schwing representative how the new modular octagonal mast can streamline your next separate placing boom project. Because of the thousands of successful projects performed with Schwing separate placing booms and concrete pumps, we have the experience and engineering support to meet your concrete placing requirements.
Mounting Options:
Self-Climbing
Zero Elevation Frame
Wall Truss
Clamp Style Floor Frames
Lattice Tower
Zero Elevation Frame
Ballasted Frame
Foundation Frame