So much rides on your long boom investment so choose machines that have proven themselves to be so versatile and maneuverable that you can use them everyday. It is this balance of boom utilization, compact set-up, nimble handling and reliable pumping that makes the S 58 SX or S 61 SX the most popular long booms on the market. Longer booms will come and go, but the Schwing long booms are designed for long term use and high trade-in value because of volume manufacturing of a solid design.
Now operators have valuable operational data at their fingertips because Vector is the first system to allow monitor-ing of the pumping process from the remote control box.
The revolutionary Rock Valve and the optional Big Rock Valve provide absolute reliability. The only completely rebuildable valves in the industry.
The Generation 3 outperforms every other concrete pump on high visibility projects while also placing millions of yards of concrete on everyday pours.
Boom Specification
Boom Specifications

U.S.

Metric

Pipeline Diameter

4.5″

112 mm

Vertical reach

196′ 10″

60.1 m

Net Horizontal Reach

171′ 9″

56.1 m

Horizontal Reach

184′ 2″

52.3 m

Unfolding Height

51′ 9″

15.8 m

Section Lengths:

First Section

34′

10.4 m

Second Section

49′

15 m

Third Section

50′ 7″

15.4 m

Fourth Section

50′ 7″

15.4 m

Slewing Range

370 deg.

370 deg.

End hose Length

10′

3 m

Specifications are subject to change without prior notice.
Pump Specs
Pump Kits

Theor. Concrete Output

213

cu./yds/hr

163

cu./m/hr

Max. Pressure on Concrete

1169

psi

81 bar

Max. Strokes/Min.

22
22

Pump Cylinder Diameter

10
25 cm

Pump Cylinder Stroke Length

98 in.
250 cm

Differential Cylinder Size

4.7 in.
120 mm

Max. Aggregate Size

2.5 in.
62.5 mm
Specifications are subject to change without prior notice.
Boom Chart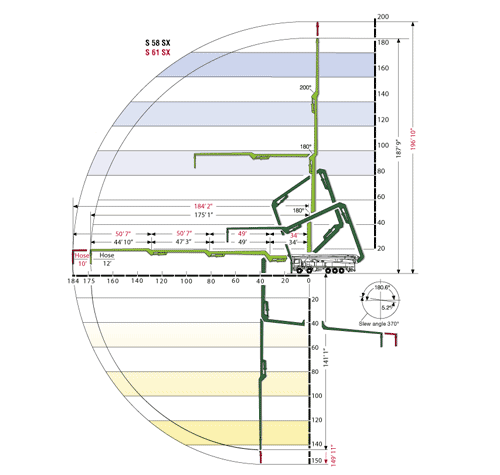 Outrigger Speed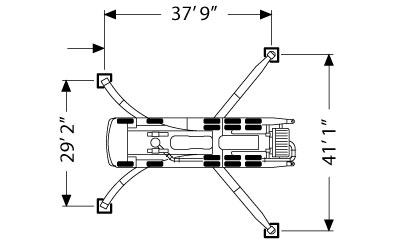 Truck Specs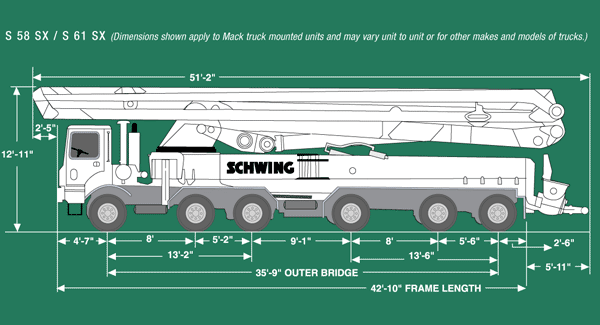 Other Details
Accessories
Auto Greaser (Rock Valve Only) – Standard
Auto Greaser (Pump and Boom Only) – Standard
Auto Greaser (Pump, Boom and Chassis) – Optional
Auto Greaser, Chassis
Carbide Wear Parts – Standard
Digital Electronics – Standard
Esser Twin Wall Pipe and Elbows – Standard
Extended Rock Valve – Standard
Extended Life Kit (Includes Esser Twin Wall Pipe, Elbows, Deck Pipe Reducer and Carbides) – Standard
High Pressure Washer – Standard
Hopper Vibrator – Standard
Hose and Fitting Kit
Radio Remote Control – Standard
Proportional Boom Controls – Standard
Water Tank Heater
Truck Selection
Mack MR 688S 12×6 (6 Axle)
Tor T-63120 12×6 (6 Axle)
Other Trucks Available on Request
Truck Options
XZY – 2 Highway Rear Tire Upgrade
XDY – 2 Off Road Rear Tire is Standard