Truck-Mounted Concrete Pump with 4-Section Placing Boom
Move up to the 40-meter class and reach 120-feet out or more than 132-feet up with a boom mounted on an economical three-axle truck. Now you are competing with longer booms but enjoying all of the maneuverability of a smaller unit for maximum utilization on all types of projects.
The popular four section Roll & Fold™ boom design is used on more concrete pumps than any other style. With low unfolding height, fast set-up and easy clean out, it is the multi-purpose boom. From house foundations to bridge decks it will be the most requested pump in your fleet. The proportional boom controls make this an operator friendly boom that provides precise placement in all situations.
Continuing the Schwing tradition of low maintenance and long service life, the S 41 SX comes standard with Super 3000 pipeline and high impact elbows. And because Schwing pipeline follows the center line of the boom, there is less stress on the pipeline holders.
Order the detachable boom option and your concrete pump gains even more versatility by offering remote boom placement.
Now operators have valuable operational data at their fingertips because Vector is the first system to allow monitor-ing of the pumping process from the remote control box.
The revolutionary Rock Valve and the optional Big Rock Valve provide absolute reliability. The only completely rebuildable valves in the industry.
The Generation 3 outperforms every other concrete pump on high visibility projects while also placing millions of yards of concrete on everyday pours.
Boom Specification
Boom Specifications
U.S.
Metric

Pipeline Diameter

4.5″

112 mm

Vertical reach

132′ – 10″
41 m

Horizontal Reach

120′
36.5 m

Net Horizontal reach

112′
34.1 m
Unfolding Height
33′
10 m
Section Lengths:

First Section

31′ – 8 "

9.6 m

Second Section

28′ – 6 "
8.6 m

Third Section

29′ – 7 "

9 m

Fourth Section

29′
8.8 m

Slewing Range

740deg.

End hose Length

9′

-10″

3 m

Specifications are subject to change without prior notice.
Pump Specs
Pump Kits

2023-5 130/80 MPS*

US / Metric

Theor. Concrete Output (cu./yds/hr)

208/160

Max. Pressure on Concrete (psi)

1007/70

Max. Strokes/Min.

32

Pump Cylinder Diameter (in.)

9/230

Pump Cylinder Stroke Length (in.)

79/2000

Differential Cylinder Size (in.)

5.1/130

Max. Aggregate size (in.)

2.5/63.5

2.5/63.5
Specifications are subject to change without prior notice.
Boom Chart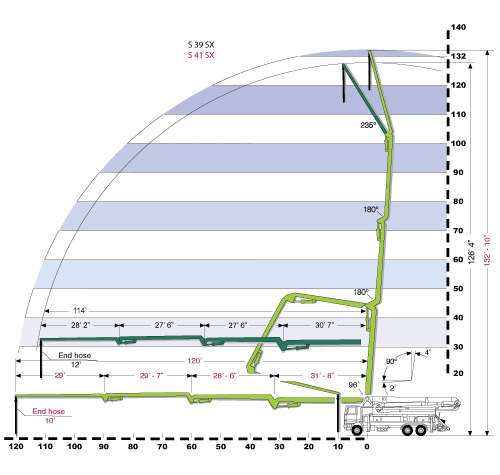 Outrigger Speed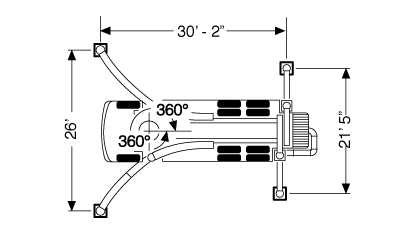 Truck Specs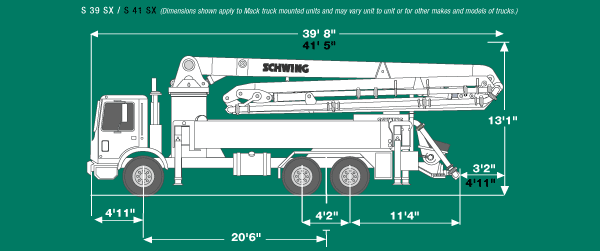 Other Details
Accessories
Auto Greaser (Rock Valve Only)
Auto Greaser (Pump and Boom Only)
Auto Greaser (Pump, Boom and Chassis)
Carbide Wear Parts
Digital Electronics – Standard
Esser Twin Wall Pipe and Elbows
Extended Rock Valve
Extended Life Kit (Includes Esser Twin Wall Pipe, Elbows, Deck Pipe Reducer and Carbides)
Hardened Pipe with Double Wall Elbows
Harsh Mix Kit
High Pressure Washer
Hopper Vibrator
Hose and Fitting Kit
Night Light Kit
Radio Remote Control
Proportional Boom Controls
Water Tank Heater
Truck Selection
Freightliner FL80
Mack m/n MR688S 400 HP, Electronic
Volvo m/n WX64
Other Trucks Available on Request
Truck Options
Aluminum Fuel Tank (Mack Only/Standard on Volvo)
Canadianize Truck
Crank Windows
Differential Lock-out Kit
Pusher Axle
Tag Axle
XZY Rear Tire Upgrade